Live, Uncut & Uncensored Conversations With
"Musicians You Should Know"
SHOW ARCHIVES
APRIL 2013
Click On Image To Listen To Show - Opens In Your Default Media Player
SHOW # 157 - 04/01/13
HITMAN BLUES BAND
Russell "Hitman" Alexander formed the Hitman Blues Band in 1986 and has toured the world with his collection of top-flight musicians. Their 2008 release, Pale Rider was nominated for 4 Grammy Awards. Now, the band has released its 5th album, Blues Enough and I sat with Russell to discuss his long career and his view of what is to come for the Hitman Blues Band.
BLUES 411 REPORT - Segment Begins At The 48:45 Mark
Chefjimi Patricola gave us his Blues411 Report including his co-hosting of the Earl Thomas "Raise The Roof" Webcast Fundraiser and the remainder of his musical journey around San Francisco.
RICKEY GODFREY - Segment Begins At The 1:01:21 Mark
Rickey Godfrey came to my attention at this year's IBCs and I knew I had to speak with this gentleman and let him tell his story. Rickey plays both guitar and piano while singing his heart out on stage. His music is a mix of blues and R&B with some rock to even it all out.
We sat and talked about his getting started in bands back in the 70's, his years at Capitol Records and playing with so many players from the Nashville area. He also talked about changing his vocal style to find an audience and his travels to Memphis for the IBCs.
ANNIE MACK - Segment Begins At The 2:00:15 Mark
Annie Mack made it to the IBC in 2012 from her home in Minnesota and she caused many a head to turn with her gritty blues vocals. This from a lady who had only been performing professionally for 2 years and singing for 6! She is about to release her debut album, Baptized In The Blues and brought some of the songs to us first!
SHOW #158 - 04/08/13
TERESA JAMES
Teresa James was supposed to be here last month, but the world intervened. Tonight we chatted with this skilled musician about her career and the journey she has been on since childhood. We also checked out the great blues she serves up on the album Come On Home
HADDEN SAYERS - Segment Begins At The 45:25 Mark
Hadden Sayers has a backstory that is as old as the blues itself. Bad deals, tough time, loss of friends and a desire to just walk away. Why his journey led him back to the blues and how has his life rebounded since are the subjects we discussed while we listened to Rolling Soul, Hadden's new album.
MIKE ELDRED - Segment Begins At The 1:30:50 Mark
Mike Eldred picked up a guitar at 14 and it has been with him ever since. He has played all the gigs an aspiring guitarist must and then found his break with a phone call. Now, the Mike Eldred Trio, with former Blasters on the rhythm section, are playing top gigs and winning new fans. With two albums out, 61 & 49 and Elvis Unleaded Mike and I discussed his career so far and where he is heading in 2013.
ANNI PIPER & NICOLE HART - COUCH KID NEW MUSIC
Segment Begins At The 2:18:46
In the liner notes of the new Nicole Hart/Anni Piper album, Split Second, Joe Morabia of Blues Leaf Records talks about the idea for pairing these two great musicians together after listening to them each interviewed on an Internet radio show in December 2011. That show...MUSIC ON THE COUCH! Anni and Nicole were scheduled to come and talk about the album, unfortunately Nicole took ill so our conversation was with Anni only.
ANNI WEB SITE ANNI FACEBOOK PAGE
SHOW # 159 - 04/15/13
PAM TAYLOR
Pam Taylor comes from a family steeped in music, so it is no surprise she is now leading her own band alongside the man who gave her her first guitar, her dad - who plays one killer sax.
Pam is writing her own music and making people take notice over the music contained in her album Hot Mess. She and I traced her history and discussed her time away from music and how her dad taking her on a Delbert McClinton Cruise reopened the door to music.
KEVIN SELFE - Segment Begins At The 47:45 Mark
Ask Kevin Selfe which experience in his career means the most, and he might mention a certain guitar he got to play while in Memphis during the 2002 IBC. His life could have been much different if he had taken his Meteorology degree and become a weatherman. Instead, music was his love and he has made a name for himself playing the blues from coast to coast.
Kevin and I sat and talked about his decision to take a musical journey as opposed to a weather one, his relocation to the Portland area and that guitar he played on Beale Street back in 2002! We also checked out tunes from his most-excellent album, Long Walk Home
DAVE WIDOW - Segment Begins At The 1:36:25 Mark
Dave Widow's latest, Waiting For The World To End was nominated for best self-produced CD by the Blues Foundation this past year. He has played with some incredible musicians over the years and was mentored by the late Roger "Jellyroll" Troy, bassist and vocalist for The Mike Bloomfield Band. Dave gave us a more detailed look at his journey thus far and a peek into where he is heading as we checked out music from the new album.
MIGHTY MOJO PROPHETS - COUCH KID NEW MUSIC
Segment Begins At The 2:18:55 Mark
Tom "Big Son" Eliff and Mitch "Da Switch" Dow originally Sat On The Couch back in August of 2011 after their debut self-titled album was released. The album earned them a trip to Memphis for last year's Blues Music Awards as they were nominated in the Best New Artist Debut. On their way back home, the genesis of their new album began and the result of the trip South is Flying Home From Memphis, the new album from the Mighty Mojo Prophets.
The album is full of different styles of blues all done in the styling of the MMP... Tommy and Mitch returned to The Couch and we discussed the album and what is happening now.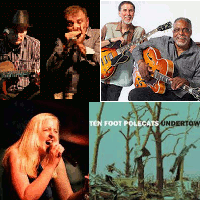 SHOW # 160 - 04/22/13
DOGGN IT BLUES
Doggn It Blues is Graeme Druce and John Cupit and they hail from Sydney, Australia and were the 2013 representatives of the Sydney Blues Society for the IBC. I spoke with John about how he and Graeme had just 'played for fun' for almost 30 years before deciding to try it out in public. Obviously, the public has approved. We checked out cuts from their album, Dog I Am.
ANDY T - NICK NIXON BAND - Segment Begins At The 47:48 Mark
Andy Talamantez (Andy T) was born and raised in Southern California and has played with Guitar Shorty and Smokey Wilson. His guitar styling is based upon the legends, but he has infused it with a signature style all his own. He moved to Nashville back in 2008 and has been making music from there since. Nick Nixon is a Nashville native, a member of The Imperials for many years, helped to rejuvenate the Nashville blues scene and was a friend and stage-mate to Jimi Hendrix, whom Nixon befriended when Jimi and Billy Cox came to Nashville in the 60's. Now they are together and making some incredible music. Andy and Nick joined me to talk about their careers and their album, Drink, Drank, Drunk and it becomes clear very quickly why the music they make is so fine...they like each other and enjoy their lives.
LONG TALL DEB - Segment Begins At The 1:35:42 Mark
Her name is Deb Landolt, but you probably know her as Long Tall Deb, and she commands a stage like few others. She was a Semi-Finalist at the 2010 IBC and has a new album, Raise Your Hands, on the VizzTone Label, which features Deb's striking vocals and guest appearances by many Blues Stars of today. Deb and I discussed her growing up in Texas, how she found the blues and where she is heading in 2013.
TEN FOOT POLECATS - COUCH KID NEW MUSIC
Segment Begins At The 2:22:45 Mark
After first Sitting here in February 2011, "Couch Kids" the Ten Foot Polecats return to The Couch with new music. The album is called Undertow and it expands off the great stylings of their first two albums. I chatted with guitarist Jim Chilson about the band's growth over the last two years, the new album and plans for 2013 and beyond.
SHOW # 161 - 04/29/13
REVEREND JIMMIE BRATCHER
At 12, Reverend Jimmie Bratcher's dad put an ad in the Kansas City Star; "Will trade 1958 DeSoto for electric guitar and amplifier". The rest is history, as Jimmie still owns the guitar and amp and used the guitar on some songs on his latest release, Secretly Famous. Jimmie and I discussed his learning the guitar at an early age, leaving the "devil's music" behind for over 20 years and what made him begin to play again. He travels constantly and ministers to all while sharing his music.
DOUG MacLEOD - Segment Begins At The 42:00 Mark
Doug MacLeod has been doing what he loves for over 40 years; playing the blues, traveling and meeting his fans, teaching guitar and playing the blues on the radio. Prior to this show I had heard from a number of people telling me how much I was going to enjoy my talk with him. BOY were they correct! Doug is a master story-teller and a funny man who truly loves his life...listen in and find out some of what makes this man tick, while listening to music from his album There's A Time
GRAND MARQUIS - COUCH KID NEW MUSIC - WORLD PREMIER
Segment begins At The 1:32:20 Mark
Back in March of 2011 Ben Ruth and Bryan Redmond of Grand Marquis came and sat on The Couch. Tonight, they returned with their brand new album, Blues & Trouble which will not release until June 25th! We talked about the recording of the album and their plans on promoting the album and we listened to the music!
ANSON FUNDERBURGH - Segment Begins At The 2:06:35 Mark
Anson Funderburgh has been called "The Godfather of Texas Blues" and has won many Handy Awards during the first part of his career. After a six year 'quiet' period where Anson dealt with the death of Sam Meyers and raising his kids and dealing with health issue he is now back and beginning to work and create again. We spoke with Anson about his time with Sam, how he dealt with his death and his return to touring, though not as heavy as he had in his past. How does Anson feel about being called "The Godfather of Texas Blues"...check out the interview and find out! We also listened to songs from both the 4Jacks album, Deal With It and from Anson's album Which Way Is Texas?