Live, Uncut & Uncensored Conversations With
"Musicians You Should Know"
SHOW ARCHIVES
DECEMBER 2012
Click On Image To Listen To Show - Opens In Your Default Media Player
SHOW # 136 - 12/03/12
DAVINA & THE VAGABONDS
Davina Sowers is pianist and lead vocalist for Davina & The Vagabonds. The Vagabonds are: Michael Carvale Vocals, Upright Bass, Alec Tackmann Vocals, Drums, Dan Eikmeier Vocals, Trumpet and Ben Link Trombone, vocals, and together they create a sound that makes you jump out of your seat to hit the dance floor. Davina came and sat on The Couch to discuss her life and the road she took to get to be one of the most recognizable faces and voices out on the road today. Is what they play the blues? Well, Davina talks about that and so much more, while we listened to cuts from their latest album, Black Cloud. Unfortunately, there was a few drop-outs from Davina's phone, but we pushed through them.
BLUES411 REPORT - Segment Begins At The 48:47 Mark
After spending a month celebrating his 60th birthday, Chefjimi came and talked about his month and the music he got to check out -and we presented him with a special birthday song!
SUGAR BLUE - Segment Begins At The 55:30 Mark
Sugar Blue has been blowing his harp since 1975 when he made his first recordings with legendary blues figures Brownie McGhee and Roosevelt Sykes. His latest album, Raw Sugar, is a live recording of Sugar and his band and it shows off the high energy Sugar brings to every performance. Sugar called in from Italy at 4:00am in the morning. And he sounded like he had just woken from a great sleep as he was energetic and funny. The list of people who he has played with and learned from is an encyclopedia of the blues. We discussed his long career and we talked about the new sounds of the blues and he even called me out on a statement I made...what was the statement and what was Sugar's retort?
WEB SITE FACEBOOK PAGE
TAS CRU - Segment Begins At The 1:48:25 Mark
Tas Cru's songs are blues poetry - telltale life lessons crafted with rare verbal flair and delivered with a power and passion the heights of which only the seasoned concert entertainer can reach. I sat and talked with Tas about everything! His growing up in upstate New York and playing with the older guys and listening to his uncle's old blues records...his time spent in Canada still learning his craft...why he picked up the cigar-box...the state of the blues...his participation in music programs in the schools around the country and so much more. The whole time, we checked out cuts from Tired Of Bluesmen Cryin', his latest collection of stellar original tunes.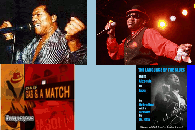 SHOW # 137 - 12/10/12
TERRY EVANS
Terry Evans' musical journey began in Vicksburg, Mississippi and has been racing along ever since. Terry joined me this evening and we got to find out the details of his life and career. From his childhood, where secular music was forbidden in his home to his finding the sounds of the blues to his move to California where he found his ability to play guitar and write music which was recorded by the likes of Louis Jordan and Pops Staples. Terry discussed meeting Hans Theesink and their partnership over the last 20 years including the details of their recording their latest creative effort, Delta Time. We listened to music from the album as Terry shared his words.
JOHN LEE HOOKER, JR - Segment Begins At The 49:10 Mark
John Lee Hooker Jr. His name is covered in the blues but he is not resting on his father's name...he is bulldozing through making new fans with every day. This was a special interview. John Lee is open and honest about his life and now lives his life to teach those the dangers of life. He talked about the influences and lessons he learned from his dad, who he toured with from the time he was 18. We laughed about his character "Bluesman" and how his dad would have reacted to it and we got to listen to three great tracks from his latest album, All Hooked Up.
THE BUSH LEAGUE - COUCH KID NEW MUSIC - Segment Begins At The 1:37:27 Mark
We met The Bush League back during the 2012 International Blues Challenge and formed a friendship over the music and I became a fan. They came by and sat on The Couch back in June to talk about their career and when they reached out and asked if I wanted to Premier Can Of Gas & A Match, I jumped on it. We talked about the making of the album and the writing of the new songs. This group of artists never take themselves seriously (except for the music) and the time together is filled with laughter and music.
DEBRA DEVI - Segment Begins At The 2:04:05 Mark
Debra Devi has written for an established blues magazine, is the leader of the rock band DEVI and has authored the book The Language Of The Blues: From Alcorub to Zuzu, which chronicles many terms used in blues music from it's inception. Debra and I discussed the book and the wonderful musicians who helped contribute to the experience of the book. We examined a few of the terms that were the most interesting.
SHOW # 138 - 12/17/12
EDDIE MARTIN
With 12 CD releases and constant globe-trotting, London-born Eddie Martin has been called "The Ambassador of British Blues". Nominated best UK Blues Guitarist, Best Harmonica Player, Best Band, Best Acoustic Artist and Best Blues CD release many times, his songs have made it onto TV and film soundtracks. Eddie called in from England at 3am his time and we explored his life and career. He talked about having the freedom, due to owning his own studio, to continually reshape his music and we even got a little glimpse of what might be coming down the pipe from Eddie. We also listened to music from his latest, Looking Forward Looking Back.
SMOKE WAGON BLUES BAND - Segment Begins At The 46:22 Mark
Featuring funky blues harmonica, whiskey stained vocals; slick guitar work and a solid rhythm section Corey Lueck and The Smoke Wagon Blues Band have been gaining momentum and new fans with every high energy performance. Corey took his seat on The Couch where he filled in information about his life before the Smoke Wagon Blues Band was formed in 1997. We also discussed his long time musical partnership with Mike Stubbs and how they handle the many tour dates the band is getting. During the time together we explored some of the tunes from the band's latest, It Ain't Easy.
MISSISSIPPI HEAT - COUCH KID NEW MUSIC
Segment Begins At The 1:33:35 Mark
Mississippi Heat has a new album, Delta Bound which has reached #1 on Living Blues Magazine and #2 on The Radio News Report and the top 10 on the Roots Music Charts. Pierre, who last took a Seat On The Couch in April of 2010, joined me to talk about the making of the album and the fun of bringing back past members of the band and special guests to celebrate the 20th Anniversary of Mississippi Heat.
DUSTY & THE ROBODRUM - COUCH KID NEW MUSIC
Segment Begins At The 2:05:20 Mark
Finally, Dusty from Robodrum shared their new album, Big Bad Wolf, which has seen limited release but dropped nationally earlier in the day. We discussed the changes in the band, all the good fortune they have come across this past year and where they are heading in 2013 and beyond. D.C. joined us for a bit to talk about working with Dusty.
YEAR-END WRAP UP - This Segment Begins At the 2:37:20 Mark
I took about 8 minutes to recap the incredible year here at Music On The Couch...including a look forward at 2013. Thank you all for a fabulous year!