SHOW ARCHIVES
AUGUST 2017
Click On Image To Listen To Show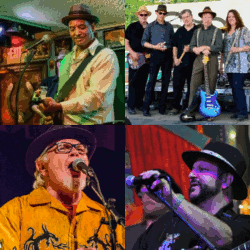 08/07/17 - SHOW #384
​
BENNY TURNER – COUCH KID NEWS
Benny has written his autobiography entitled Survivor and he came by to talk about how it got written, why it got written and the joys he received from writing the story.
LARRY GRIFFITH – Segment Begins At The 16:00 Mark
From Cincinnati to Atlanta to Clarksdale, the road Larry Griffith has traveled has formed the foundation for the Blues he performs. What a wonderful conversation I had with Larry. Find out about this wonderful guitarist. And hear music from Shake It Loose.
​
MARK CAMERON – Segment Begins At The 56:30 Mark
The Mark Cameron Band came to Memphis for the 2017 IBC representing the Minnesota Blues Society. But back in August of 2016 while at the Blues On The Chippewa, they decided to record their performance. Mark came by to tell his story and we listened to tunes from Live At Blues On The Chippewa.
​
BIG JOE SHELTON – Segment Begins At The 1:35:00 Mark
Joe has a new album. It is entitled Ridin' A Chicken continuing 12 original songs inspired by the people, places and culture of Mississippi. I met Joe three years ago, and finally got to sit with this remarkable musician and talk about his life.
​
MARK ROBINSON – COUCH KID NEW MUSIC
Segment Begins At The 2:20:15 Mark
Mark returns with his new album, The Mark Robinson Band Live At The 5 Spot. The band played a number of sets, which were recorded and at the end, they just had to release them. It is always a thrill to catch up with Mark and hear his music.
​
08/14/17 - SHOW #385
​
DAYTONA BLUES FESTIVAL – FESTIVAL PARTNER
Music On The Couch is proud to, once again, be a media sponsor for The Daytona Blues Festival. Having been shut down by a hurricane last year, they have brought back the lineup from 2016. Frank Carbiener talked about the festival, the acts and the charities that benefit from the festival.
​
TORONZO CANNON
Toronzo and I did not connect, but he is being rebooked in the coming weeks.
​
JIM ALLCHIN - COUCH KID NEW MUSIC
Segment Begins At the 24:49 Mark
Jim returns with his new album Decisions. This is his third solo album and Couch Kid Tom Hambridge produced it. I had an excellent time catching up with Jim and hearing the stories behind his music. Another winner from this Couch Kid.
​
JOSH CHARLES - COUCH KIDD NEW MUSIC
Segment Begins At The 54:00 Mark
Josh is an Original Couch Kid, having first appeared in May of 2010 on Show#14! He has been exploring all sorts of music since then and has also been producing music for others. He has just released 1974, six songs that harken back to his beginnings. What a pleasure to speak with Josh and hear his passion is as strong as ever…as are his musical chops.
​
JASON RICCI - COUCH KID NEW MUSIC
Segment Begins At The 1:32:00 Mark
Jason returns to The Couch with Approved By Snakes, the new album from the bad boy of the Blues. What a pleasure to speak with Jason...we talked about the music and the album, yes, but we also explored so many other subjects, including the state of the youth in Blues.
​
08/21/17 - SHOW #386
​
JOHN PAGANO – COUCH KID NEW MUSIC
John returns with a new album entitled One More Round. John originally sat with me back in 2012 and then returned the next year when Make Room At The Table was released. We got to catch up with this talented guitarist and songwriter while we listened to tunes from the album
MARK TELESCA – Segment Begins At The 46:30 Mark
Mark is a wonderful musician, who can play multiple instruments, but is best known for his prowess on bass. Mark and I finally got to sit and talk about his life, the way music came into it and his recent health issues. We did so while checking out tunes from his album Heavy Breathing and also a tune from You Can't Do That, the album he did with Mick Kolassa.
MARKEY BLUE-RIC LATINA PROJECT – COUCH KID NEW MUSIC
Segment Begins At The 1:32:30 Mark
Markey and Ric from return to bring us their new album. The music is pre-mastered – but it is all unreleased and heard here first. As always, there were laughs, stories and some real fine music.
THE NIGHTHAWKS – COUCH KID NEW MUSIC
Mark Wenner from The Nighthawks and I missed this evening, but Mark is already rescheduled for October 23 at 9:45pm when we'll talk about All You Gotta Do, and more.
​
​