SHOW ARCHIVES
OCTOBER 2017
Click On Image To Listen To Show
10/02/17 - SHOW #390
​
THE TUCCI BAND
Tucci is a rockin' blues, funk, R&B, jazz, often indescribable mashup featuring a unique, funky, danceable sound. The band has ties back to The Allman Brothers and The Greg Allman Band and has just released the new album Olivia. Steve Tucci and I traced his path from upstate NY to Sarasota and partnering with Dan Toler and so much more.
​
PRESTAGE BROTHERS
Ben Prestage and Jon Debt Prestage have released Prestage Brothers. They did not connect, so we will find a place to book them in the future.
BEN'S WEBSITE JON'S FACEBOOK PAGE
​
THE ALTERED FIVE BLUES BAND – COUCH KID NEW MUSIC
Segment Begins At The 53:00 Mark
Jeff Schroedl and Jeff Taylor returned for COUCH KID NEW MUSIC with their album, Charmed & Dangerous. It came out on the Blind Pig label in August and was produced by Tom Hambridge. We talked about the changes in the band, the recording of the album and more.
​
RANDY McQUAY – Segment Begins At The 1:37:00 Mark
Randy won the Solo/Duo IBC Challenge in 2015. He returned in 2017 and made the final stage again. His latest album is My Kind Of Blues and he and I talked about the incredible journey he started at 16.
​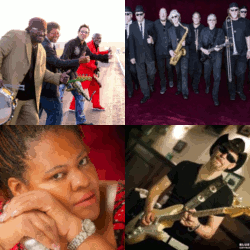 10/09/17 - SHOW #391
​
NORMAN JACKSON BAND
The Norman Jackson Band came to the 2016 International Blues Festival and shook the stages up and down Beale until on Saturday they were named the 3rd Place Band Challenger. I got to sit and talk to Rick Shortt and Norman about their journeys and how they came together, while we listened to It's The Drummers Fault
​
BLUE LOU MARINI – THE ORIGINAL BLUES BROTHERS BAND
Segment Begins At The 46:30 Mark
In 1978 The Blues Brother's Band was formed and became known throughout the world from the movie. The band still performs around the world and if that surprises you, don't be sorry, it surprises them too! I was joined by Lou to talk about his remarkable career and the history of the band. We listened to tunes from The Last Shade Of Blue Before Black.
​
FREDDYE STOVER – Segment begins At The 1:34:30 Mark
Freddye is known as Pittsburgh's Lady Of The Blues. She has been singing since she was a child and has earned her way to Memphis for the IBC twice. She and I talked about her finding the Blues and beginning her own bands and where she is heading while we listened to songs from Lady Of The Blues.
​
DUDLEY TAFT – COUCH KID NEW MUSIC
Segment Begins At The 2:17:15 Mark
Couch Kid Dudley Taft returned with his new album, Summer Rain. Always fun to find out what is happening in Dudley's world while we listened to songs from the new album.
​
10/16/17 - SHOW #392
​
NIECIE - COUCH KID NEWS
Couch Kid Niecie comes by with some COUCH KID NEWS to start the show. She released a single on Friday entitled "Two Can Play That Game" and she and I talked about the amazing lineup behind her and her next moves.
​
SCOTTIE MILLER – Segment Begins At The 12:50 Mark
When Scottie Miller is not working on his own music, he is the touring keyboardist for Miss Ruthie Foster. A member of the Minnesota Blues Hall Of Fame, Miller has also toured with Bo Diddley. He and I talked about all that and more as we listened to tunes from his latest, Stay Above Water.
​
DRY RIVER – Segment Begins At The 48:40 Mark
The band has released their second album, Prayin' For Rain, and I had the opportunity to speak with Oliver and Dave about the formation of the band and where they are headed.
​
KIM SIMMONDS – COUCH KID NEW MUSIC
Segment Begins At The 1:25:00 Mark
Kim returns for Couch Kid New Music with not one new album, but TWO new albums. First is, Jazzin' On The Blues, released on Kim's own label, Panache Records. And then he has also released a new Savoy Brown album, Witchy Feelin' on Ruf Records. Kim and I talked about both the albums, why he began a record company and what are plans are on the table moving forward.
​
ERIC HUGHES – COUCH KID NEW MUSIC
Segment Begins At The 2:04:30 Mark
Another Couch Kid, Eric Hughes, returns with his latest release, Meet Me In Memphis. This is another fine piece of Memphis Blues, by one of the tightest bands in the region. Eric is on stage during the show, so we pre-recorded our interview, which touched on the music on the album, how they funded the album and more.
​
10/23/17 - SHOW #393
​
MILLIGAN-VAUGHAN PROJECT
The Milligan-Vaughan Project is the brainchild of Malford Milligan & Tyrone Vaughan. They've released their self-titled debut album and I got to sit and talk with Malford about his journey, the new collaboration and where they are heading.
​
THE NIGHTHAWKS – COUCH KID NEW MUSIC
Segment Begins At The 46:10 Mark
Mark Wenner returns to The Couch with new Nighthawks music, All You Gotta Do. As always, Mark is a great interview and we talked about the album, the documentary made about them and even the potential changes in the future of The Nighthawks.
​
JOSHUA JACOBSON – Segment Begins At The 1:32:30 Mark
Joshua Jacobson began playing later in life, and still ended up touring with Cora Mae Bryant as her #1 guitarist and has now released, Good Little Things, which includes some heavy hitters including Dickie Betts. Joshua and I talked about his journey and why he began writing his own music…it was a suggestion by someone!
​
JOEL DaSILVA – COUCH KID NEW MUSIC
Segment Begins At The 2:16:00 Mark
Everywhere From Here, is the new release from Joel DaSilva. It is a change for him...the music is very personal and Joel and I spoke about it all and where he is heading.
​
10/30/17 - SHOW #394
​
MICHELE D'AMOUR AND THE LOVE DEALERS
Out of the Seattle area, the band playing blues and R&B. The band was formed in 2011. Lost Nights At The Leopard Lounge is their third release and Michele and I had a great talk about her musical journey, putting the band together and where they are heading.
​
SCOTT ELLISON
Scott did not make his scheduled appearance.
​
AL BASILE - COUCH KID NEW MUSIC
Al was scheduled for a Couch Kid New Music Segment, but had to cancel his appearance. We are working to reschedule
​
CASSIE KEENUM/RICK RANDLETT – COUCH KID NEW MUSIC
Segment Begins At The 50:30 Mark
Rick is a Couch Kid. He joined forces with Cassie a few years back and last year and they made it to the IBC in Memphis. Now they have released Hauntings, and I got to chat with them both. We learned about Cassie's journey and how this pair came together and the interesting adventures recording Hauntings.
CASSIE WEB SITE CASSIE FACEBOOK PAGE
RICK WEB SITE RICK FACEBOOK PAGE
​
​